Your guide to protecting your airbnb in Modesto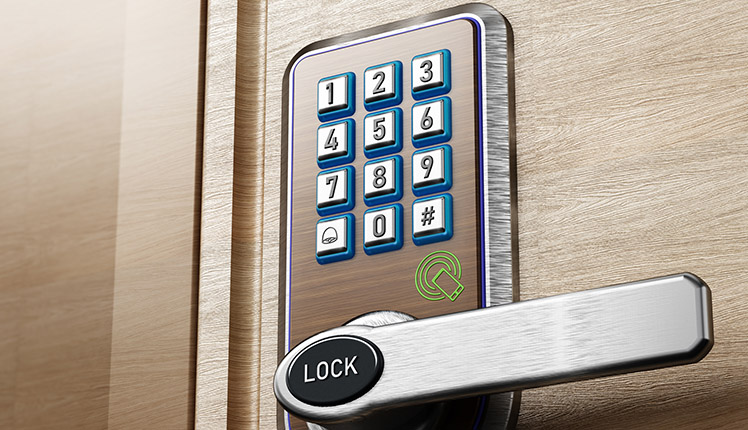 Whether you sublet the family lake house or you run numerous Airbnbs, it can be a challenge to protect your rental properties in Modesto. Unless you're always on site, it's normal to think about keys getting copied or former renters unexpectedly showing up. In addition, what would you do when there's an emergency like a fire at your Airbnb when you're away?
From smart locks to comprehensive security with home automation, here are some helpful tips on how to protect your Airbnb in Modesto.
Don't worry about keys by switching to smart door locks
When a visitor checks out, they could leave the keys behind for the next guest. Although, if someone snatched or secretly made copies of a key, they could sneak back in later. Needless to say, you have the option to change the locks after a key is "misplaced", but that is not a timely or cost-effective solution.
You'll want to install smart door locks that work in conjunction with your home security system to alleviate these worries. Then, you can provide each renter their own unique entry code. When tenants depart, don't worry about the key exchange. You can simply set the temporary code to no longer work after they're gone. If previous lodgers return and make an attempt to enter with their prior entry code on the keypad, you will be warned with a notification on your mobile device.
Smart home technology makes vacant units appear occupied at all times
Of course, you hope that your Modesto rental property will be occupied, but that's not always possible. Despite this fact, you need to make it appear that someone is home so your place isn't targeted by burglars. Installing home automation into your property's security allows you to benefit from smart lights, motion detection equipment, and video cameras that make your rental appear inhabited.
You can put your plan in motion by programming your smart lights to come on at specified times of the night. Then, use your security smartphone app to notify you if your cameras spot someone prowling around your perimeter or approaching your main entrance. You then are able to take advantage of the 2-way talk capability to make them aware that you can see them or set your lights to instantly turn on when a camera or motion sensor uncovers suspicious activity.
Protect your Modesto rental property with around-the-clock monitoring
Your occupants can sleep easy if they have protection against intruders, particularly when Modesto is unfamiliar territory. In the event a prowler attempts to gain entry, your security system will not only initiate the alarm siren but will also alert your 24-hour monitoring agents. Even if you're not available, assistance will be forthcoming. Your monitoring agents will even act as your primary contact and communicate with you whenever you're free.
Besides home invasions, your monitoring hub can be linked to fire alarms, flood detectors, and carbon monoxide detectors. It is likely to be upsetting for your visitor if flooding occurs or something catches fire. You not only will get a smartphone update that an emergency has taken place, but a representative will also authorize emergency services while you're on the way.
Request an innovative home protection plan in Modesto
The best way to protect your Modesto rental property is to invest in the latest in home protection. Luckily, Vivint provides great features like smart lights, smart locks, and 24-hour monitoring. Reach out today and our experienced team will help you customize a plan that makes sense for your rental. Phone (209) 255-5672 or fill out the form today!